The extrusion process is a widely used manufacturing method across various industries, including plastics, rubber, and food processing. It involves the transformation of raw materials into desired shapes by forcing them through a die. One critical component that plays a pivotal role in extrusion processes is the screw barrel assembly. Among the various types available, the conical screw barrel stands out as an ideal choice due to its unique design and numerous advantages. This article delves into the features that make a conical screw barrel highly suitable for extrusion applications.
Enhanced Material Mixing and Dispersion:
One of the primary advantages of a
conical screw barrel
lies in its superior material mixing and dispersion capabilities. The design of a conical screw barrel involves a gradually tapering screw channel, resulting in increased shear and mixing action. As the material moves through the conical barrel, it experiences varying pressure and temperature, leading to enhanced mixing and dispersion of additives, fillers, and colorants. This feature is particularly beneficial for extrusion processes that require homogeneity and consistency in the final product.
Increased Processing Flexibility:
Conical screw barrels offer enhanced processing flexibility compared to other barrel types. The variable pitch and diameter along the length of the screw enable precise control over the residence time and melting behavior of the material. This flexibility allows manufacturers to process a wide range of materials with varying viscosities and melt characteristics. Additionally, conical screw barrels can handle both low and high production rates effectively, making them suitable for diverse extrusion applications.
Improved Melt Conveyance and Pressure Buildup:
Efficient melt conveyance is crucial in extrusion processes to achieve consistent output and prevent material degradation. Conical screw barrels excel in this aspect due to their unique geometry. The narrowing channel of the conical barrel exerts increased pressure on the material, promoting better melt conveyance and reduced backflow. This pressure buildup also facilitates a more uniform melt temperature and viscosity, leading to improved extrusion stability and product quality.
Enhanced Heat Transfer and Cooling:
The conical design of the screw barrel offers excellent heat transfer characteristics, promoting efficient melting and cooling of the material. The tapering channel enables optimal contact between the material and the barrel, allowing heat to be uniformly distributed. This feature facilitates faster melting and cooling rates, enabling higher production speeds and minimizing the risk of thermal degradation. Furthermore, conical screw barrels are typically equipped with efficient cooling systems to maintain precise temperature control, ensuring consistent product quality throughout the extrusion process.
Reduced Energy Consumption:
Conical screw barrels contribute to energy savings in extrusion processes. The efficient melting and cooling capabilities mentioned earlier lead to reduced energy requirements for achieving desired processing temperatures. Additionally, the gradual tapering of the screw channel reduces the amount of mechanical work required to convey the material, resulting in lower power consumption. These energy-saving benefits make conical screw barrels a cost-effective choice for long-term extrusion operations.
In summary, the unique design features of a conical screw barrel make it an ideal choice for extrusion processes. The enhanced material mixing and dispersion, increased processing flexibility, improved melt conveyance, efficient heat transfer and cooling, and reduced energy consumption all contribute to superior performance and consistent product quality. Manufacturers across industries can benefit from incorporating conical screw barrels into their extrusion systems, enabling them to achieve optimal efficiency, production flexibility, and cost savings.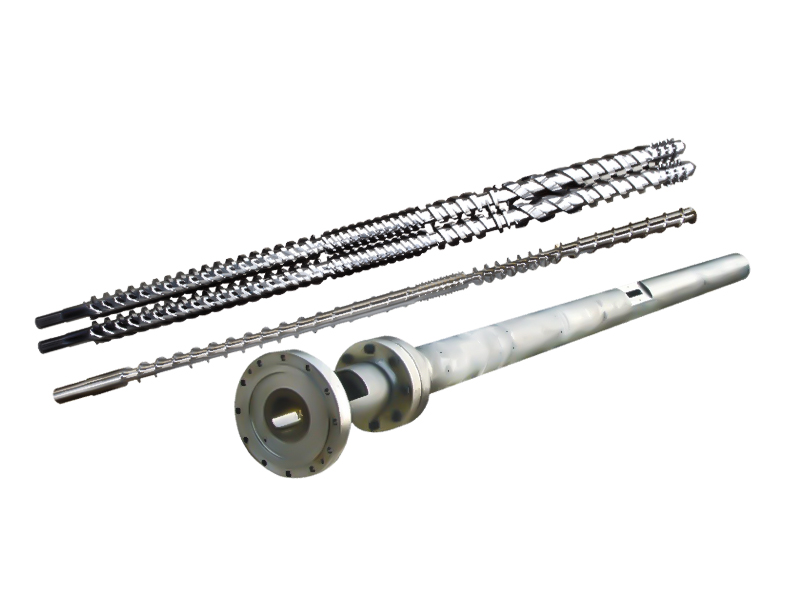 With more and more recycling plastics, the plastic recycled plastics have played a considerable role
in the more and more fierce market competition. Production of high-quality plastic particles and
pelletizing extrusion with high efficiency are the essence to reduce cost and increase profit.
INTAI also offers you with more optimized solutions for complete pelletizing extrusion line and its
system improvement
Field of application
ABS 、PP、PVC、HDPE、LDPE、PS、XPS、XPE、PET、PC、PMMA、EVA、TPU、PVB、
EVOH Film, board, pipe, sheet pelletzing ,etc