Injection molding is a widely-used manufacturing process that involves creating products by injecting molten material into a mold. The process involves a complex interplay of mechanical and thermal factors, and one of the most critical components of a
Screw Barrel For Injection Molding
. The screw barrel is responsible for melting, mixing, and conveying the material to the mold, and its performance has a significant impact on the quality, consistency, and efficiency of the injection molding process.
Fortunately, recent advancements in screw barrel technology have enabled injection molding businesses to achieve new levels of precision, speed, and reliability. In this article, we will explore the latest screw barrel technologies and discuss how they can help transform your injection molding business.
Screw Barrel Materials
One of the most significant advances in screw barrel technology is the use of new materials. For many years, the most common materials used in screw barrels were steel and bimetallic alloys. However, these materials have limitations in terms of wear resistance and corrosion resistance, which can lead to reduced performance and increased maintenance costs over time.
Today, many injection molding businesses are turning to alternative materials such as ceramic and carbide. These materials offer superior wear resistance, corrosion resistance, and thermal conductivity, which can translate to longer barrel life, improved process stability, and better part quality.
Screw Barrel Design
Another area where screw barrel technology has advanced is in the design of the screw and barrel itself. Newer designs can improve the mixing of materials, reduce the risk of burning or shearing, and optimize the flow rate of the material through the barrel. The result is more consistent part quality, faster cycle times, and reduced scrap rates.
For example, some screw designs feature a barrier section that separates the melted material into multiple streams, allowing for more efficient mixing of additives and colorants. Other designs incorporate a low-compression feed section that reduces the pressure required to melt the material, resulting in lower energy consumption and shorter cycle times.
Screw Barrel Coatings
Coating the surface of the screw barrel is another way to improve its performance. Coatings can provide benefits such as increased wear resistance, reduced friction, and improved corrosion resistance.
One popular coating material is tungsten carbide, which offers excellent wear resistance and thermal conductivity. Other materials used for coatings include nitride and diamond-like carbon (DLC).
Integration with Industry 4.0
Finally, the latest screw barrel technology can also integrate with Industry 4.0 systems, allowing injection molding businesses to collect real-time data on the performance of their machines. By monitoring parameters such as temperature, pressure, and material flow rate, businesses can optimize their injection molding process to improve efficiency, reduce waste, and enhance part quality.
In conclusion, the latest screw barrel technology offers significant benefits to injection molding businesses. Whether through the use of new materials, advanced designs, or coatings, the latest technology can help businesses achieve new levels of precision, speed, and reliability. Furthermore, by integrating with Industry 4.0 systems, businesses can monitor and optimize their processes to achieve even greater gains in efficiency and quality.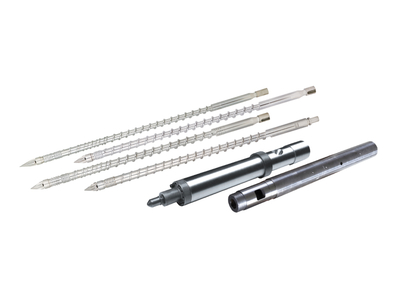 The products of INTAI in all series have perfectly integrated its experience for over 20 years and the technical development achievements in the 21st century.
The products of INTAI widely cover nearly all fields in plastic processing and meet the diverse demands of all kinds of manufacturers on the manufacturing of
general plastics products and precision products in batches.
INTAI offers products of overall variety, reasonable structure and inclusive
design. It strives to empower its customers with extremely important
competitive advantages by its cost-effective screw barrels and the
accessories.
Single injection capacity 45-51,000g; mold clamping force 200-60,000kN;
and processing raw materials composed of thermosetting plastics,
thermoplastic and rubber. Thermoplastic includes fields like PS, PE , PP, PA,
TPU, PET, PC, PMMA and ABS.
An injection quantity 45-51000g; Clamping force 200kN- 60000kN; Processing
raw material has three kinds of methods: thermosetting plastics, thermoplastics
and rubber.
Thermoplastics including PS, PE, PP, PA, TPU, ABS, PET, PC, PMMA,et